Performing an eclectic mix of original compositions Electric Wire couples studio music with performance music. Blending styles ranging from post-bop, 60's rock guitar, blues, & Indian meters: it is hard to put Electric Wire into a box.
David Lyons, founder and guitarist of Electric Wire sat down and answered a few questions about the band's music and evolution.
Alt/Art: Tell us about Electric Wire.
Electric Wire originally formed out of our recording studio in Townshend, VT. For years my son Calvin and I have been experimenting, working out original compositions, and recording there so the band formed pretty organically. Originally when we formed in 2018 we had Franz Robert on synth, piano, and Hammond B3 as well as featuring various drummers, notably Hartford Symphony percussionist Chris Swist. Currently the lineup is myself on guitar, Calvin on drums, and Vic Pacek on acoustic and electric bass.
Tell us about your son on the drums.
Although he is an excellent guitarist and leader of his own band (Squid Party), Calvin really came into his own on drums. We've been playing music together since he was a toddler so our chemistry goes way back (laughs).

He was always like, "lets jam dad" when he was a kid. Just picking up any instrument laying around or even go so far as to make his own instruments, like his Digibow, a combination drum and string instrument built from a hand carved antique newel post. He's a creative guy.
Are you a Jazz band?
We all have so many different influences it would be hard to say that we're a Jazz Band but we like to go there for sure. Vic and I have both studied formally. When he first showed up to the studio with his upright bass I was stoked! Finally, I found a bassist that could cover some territory I was interested in exploring.
And what was that?
Harmonic improvisation and non-conventional harmony. I had been composing a lot in odd meter and getting into it prior but the sound I was hearing in my head was heavy Strat with acoustic bass. It's not something you hear often, and the key is to have dynamics and leave space in the music. Then you kinda just see where you can take it from there. Once that foundation is laid out it gets really fun.

The other guys have plenty of freedom in the music and I concentrate on keeping up my end of the bargain by making the guitar spontaneous. Usually I do that through making noises, melodies or trying out some other concepts. Vic usually jumps on it and I never really know what he's going to do but it works out perfectly (laughs).
What are your plans for the band this year?
We'll continue to build a more comprehensive repertoire so when people come out and see Electric Wire live they get something new each night. We're gonna hole up in the studio this winter to get a record going, hopefully being released in the spring and we're going to set up tour dates for next year. Now that we have a solid band foundation we can compose and arrange for some wider instrumentation. Guesting different interesting musical entertainers. We like to record everything live too.
Why do you like to record live?
If you are constantly trying to cover new things you can hear what's working or not. It gives you clues as to where the music wants to go and what you want to clean up. All of us have recording studio backgrounds so its like, "Ooh let's try milking the show like this tonight to see if it sounds cool."

Then we take it back to the studio and blow up the mix on the console. After that people who attended the show can hit us on the site and download some of the live tracks from that night so they can get a little more out of the price of admission.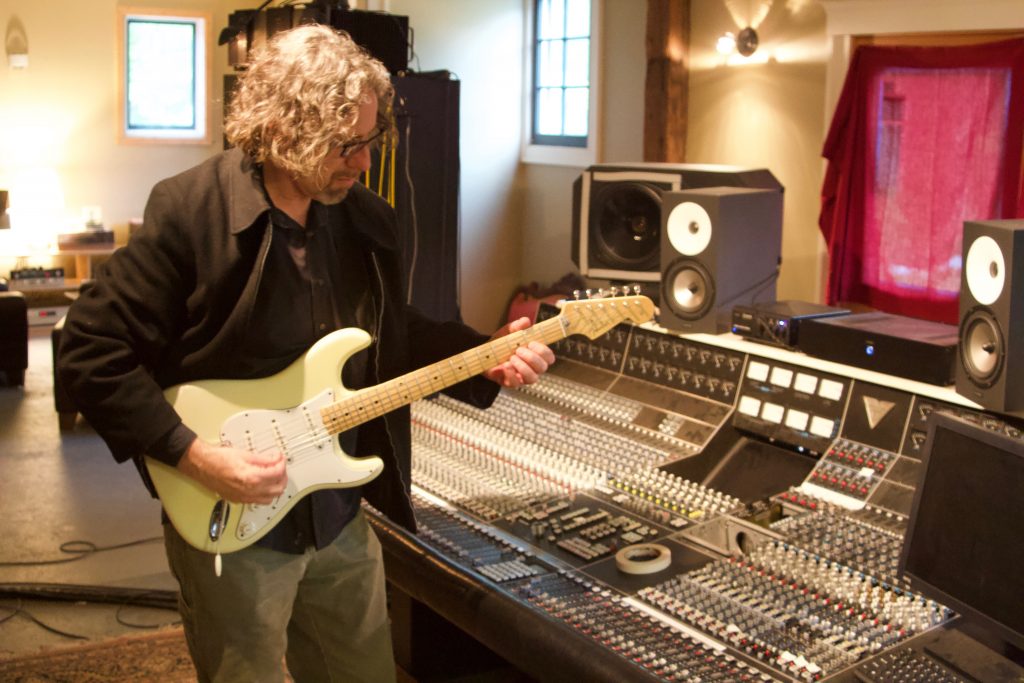 Can you elaborate on this any more?
I originally picked up on this from Frank Zappa. If you approach performance music like you're making a record then it forces you to constantly write or compose for specific events. Instead of some guy jumping up onstage with a harmonica in the wrong key or your guitar buddy getting up there and dueling with you, you write a cadenza or some horn parts and work it out with the cats in advance. Then you try and play the music as proficiently as you can. Organized spontaneity.

You and your musicians learn how to take chances as well as learn challenging passages on the fly. You also end up with some pretty cool recordings.
Do you cover other people's tunes?
I have a good backlog of my own pieces at this point and they are definitely my babies. There are certain pieces of music we cover though. We go for pieces that are so beautifully composed they can actually melt your heart when played properly. Jeff Beck's Diamond Dust or Charles Mingus' Self Portrait in 3 Colors for example. It's like, "Damn I wish I composed that".

It's nice to expose audiences to this unconventional repertoire because it usually isn't something most people hear every day. People have definitely been enjoying the music, too.
If you would like to keep up with Electric Wire you can follow them on Instagram, Facebook, or Youtube.
---